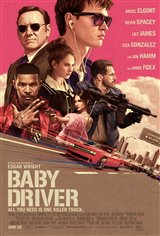 Baby Driver
| 89 Reviews
Write a Review
In Theaters: June 28, 2017
On DVD/Blu-ray: October 10, 2017
3.84/5
Based on 326 votes and 89 reviews.
Please rate between 1 to 5 stars
Showing 41-50 of 89 reviews
July 17, 2017
Started interesting but became lame very quickly.... Story sucked..... Not giving more than 2 stars.... Waste of time and money.... Hi
July 17, 2017
it was surprisingly very entertaining with plenty of action. There was little swearing, no nudity, but dome killing. The driving was astounding. This movie is not boring and does have a good story line too.
July 17, 2017
Using music they way they did was a creative idea and they COULD have nailed it... but they got lazy in the second half of the film. The opening scene is incredible and thoroughly thought out with really creative transitions. The later part of the film became a bunch of messy action scenes and the film lost its music-focus. I wish they had put the same amount of effort into the whole movie as they did in the opening scene. It would have been Oscar-worthy.
July 16, 2017
Wonderfully creative and very unique. Jon Hamm doesnt pick bad movies to be in and this keeps hia streak alive. The ensemble cast is excellent and the soundtrack stays in your head for days. Highly recommended!!
July 16, 2017
No star. This is about one of the dumbest movie I've. I know you are supposed suspend your beliefs in action flicks to some degree that is. This flick is packed with action, if mindless entertainment you are after go see this movie. But if you are capable of critical thinking you'll be disappointed.
July 15, 2017
Very disappointed in this lame movie. Even good actors couldn't save this film.
July 15, 2017
Excellent action flick! Way better than the standard fare for this genre. Well written and well acted. Great soundtrack too
July 14, 2017
I liked the way the music & movie intertwined. I really enjoyed it.
July 13, 2017
For what the movie was, they did a good job with it. One of only a few movies so far in 2017 worth the price of admission and concession. If you don't like extreme violence in movies, pick a different movie. If you do, then grab a friend and check it out.
July 13, 2017
Entertaining! Loved the way the music, action & background complimented each other!! Surprise ending was a plus!