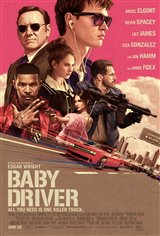 Baby Driver
| 89 Reviews
Write a Review
In Theaters: June 28, 2017
On DVD/Blu-ray: October 10, 2017
3.84/5
Based on 326 votes and 89 reviews.
Please rate between 1 to 5 stars
Showing 31-40 of 89 reviews
July 28, 2017
Fully entertaining from start to end.
July 23, 2017
Fast paced and great driving - loved it.
July 23, 2017
this is totally enjoyable, I m over 60 I thought the name of movie was off, until I saw movie, Really good highly recommend.
July 23, 2017
This is the best movie I had seen in a very long time. It should get awards as well as being rated number one. Recommended to others. Judy Howe
July 22, 2017
Pleasantly surprise, Like how they did the music with his driving. Though the part with Jon Hamm in the car crash and still be alive I thought that was a bit of a stretch and unrealistic, but I though the love scene was pretty cute.
July 21, 2017
Music was good, the rest sucked big time. Please spend more money on your writers, if they will allow you to make another movie.
July 20, 2017
My husband and I were so excited to see this movie based on all the reviews and it was such a brutal disappointment. Don't waste your money. If you must see it, be disappointed at home.
July 20, 2017
Ouch, What can I say. Typically I do love me some mindless action, and boy does this one give that and plenty. At the same time, somewhat of a plot is appreciated, and this one is thin as tissue paper flitting in the breeze. The music hook / catch part is kind of cute, but The Kid (Baby? WTH?) can barely pull it off. Great cast, some fun acting, pretty good work here, but a bit too much of a Reality Suspension is required. Not that this is horrible, but it is not big screen theater worthy or necessary. Silly Stupid Summer Flick it is. DVD & pizza (& beer) night watching MIGHT improve this, but doubt that I will ever rent it now that I've already been subjected. It's about a $2 - $5 buck budget night film and no more. (We caught it on $5 night, so it was tolerable). YMMV . . .
July 19, 2017
This was an entertaining movie based on the music score alone. The plot gets a little too violent at times, but everything smooths out in the end. Given the lack of novelty in the movie industry this movie should earn high marks for its creativity.
July 19, 2017
So, no academy awards, but this "type" of movie is entertaining; action and more action. Some lame themes and acting but it does deliver spectacular vehicle driving, two very sexy women, lotsa music oldies, and also lotsa killing; what not to like. Anyways, if you like action and over the top characters.....this is your movie. I am an old dog, kind of cynical.....but what the heck. I am sure most would love it for what it is; action, action and more action.