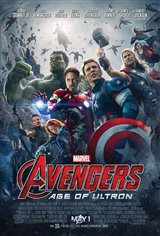 Avengers: Age of Ultron
69 Reviews
|
Write a Review
In Theaters: May 1, 2015
4.5/5
Based on 1440 votes and 69 reviews.
76.17%

9.84%

6.74%

2.59%

4.66%
Please rate between 1 to 5 stars
Showing 1-10 of 69 reviews
April 3, 2016
This movie only serves as a buffer to introduce new characters and link the previous movies to the next ones. As a comic book fan and as someone who follows the Marvel movies, it's nice to see the characters and "have a new episode" but I wouldn't rush to the theatre for it. It is far from the 1st Avengers movie and the Winter Soldier and not as original as Ant-Man.
October 10, 2015
Just watched it. Great movie! Looking forward to the sequels.
October 8, 2015
Love the Marvel films. This one didn't disappoint. Action packed. Good story. Loved it!
September 11, 2015
If you love super heroes only.
September 10, 2015
Excellent sequel worth the time to watch. Very well done.
September 6, 2015
This is the great movie. Don't miss it... The Avengers are a fictional team of superheroes appearing in American comic books published by Marvel Comics and this is the awesome comic movie.
September 4, 2015
Amazing. Especially loved Jeremy Renner's role as Hawkeye.
August 18, 2015
Good one, Black widow is attractive
August 17, 2015
best in its series
August 16, 2015
I don't understand how very thinly plotted stories with over-the-top special effects and no character development continue to attract so many viewers. These super-hero action movies are getting so repetitive that if you have a single modicum of intelligence it is just best to avoid them entirely.