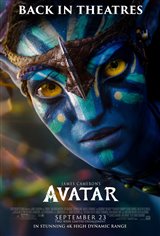 Avatar
504 Reviews
|
Write a Review
In Theaters: December 18, 2009
PG-13 | Action, Adventure, Fantasy, Sci-Fi, Thriller | 2h 42m
4.28/5
Based on 2377 votes and 504 reviews.
76.12%

3.31%

5.01%

3.85%

11.72%
Please rate between 1 to 5 stars
Showing 1-10 of 504 reviews
October 2, 2022
Classic of the modern era.
September 24, 2022
The movie had me captivated from start to finish. Yes, the movie was long but it did not seem like it. Great acting and the effects were fantastic. I know this was a reboot but never saw it when it originally showed. I look forward to the sequel.
September 20, 2022
Beautiful and touching movie with the special effects which aged very well.
September 19, 2022
Once was enough. Sequels not required.
July 12, 2022
Stupid movie. It was avatarded. Miss this one.
February 10, 2018
Visually beautiful movie with not-complicated plot and strong message mankind still ignores. "They killed their Mother."
July 2, 2017
It is awesome! I watched it 3 times!
April 1, 2014
Awesome movie, watched it 5 times!
November 22, 2010
This movie broke new ground in visual effects..they were simply stunning.Storyline was good,had some morals.Makes more than a few points about what man is doing to our planet.Definitely see it !
November 22, 2010
look people, just because a movie has special effects does not make it the greatest movie of all time. the dark knight was amazing and it had little special effects. i agree that the plot was a little predictable and this story has been done before. ice age for example. plus it drags on and is way too long. nice action, but the acting could have been better. bottom line special effects aren't everything.