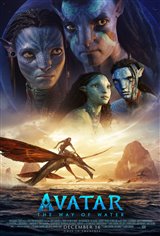 3.69/5
Based on 362 votes and 98 reviews.
Please rate between 1 to 5 stars
Showing 21-30 of 98 reviews
January 17, 2023
Visually, it was awesome, and it had a great plot that flowed quite well from part one to the present.
January 17, 2023
This movie is beyond anything you can even imagine, it's so interesting and intertwined with things you can't come up with, it's a movie you need to watch over and over to get an under standing of the whole thing, I love it I recommend it.
January 16, 2023
Great special effects, good spirituality, takes you away like a good movie is supposed to. I recommend.
January 13, 2023
It is spiritual as well as extremely imaginative & exciting
January 13, 2023
It was about 20 minutes too long. They had to bend a knee to the feminists and have a pregnant woman in a battle. Ridiculous. But overall it was a very entertaining move.
January 12, 2023
Creative and different, too much action , sky people (humans portrayed as aliens) want to wipe out species of Avatar. Yes, pure fiction.
January 11, 2023
The story was weak and had a couple of loopholes that I was not keen on but like the first one it was visually stunning and worth it on that alone. For some complaining about the length my 6 year old insisted on coming and usually has a 60 minute attention span and only started to wander a bit in the last 20 minutes of the movie and still stayed engaged so your attention span may need some work.
January 11, 2023
libtarded, leftest and woke
January 11, 2023
We thoroughly enjoyed the movie, special effects did not disappoint. Waiting to add this movie to our collection.
January 11, 2023
Bern waiting for the second movie to come out for years and it did not disappoint! Loved every minute of it! It's long but I'm glad it was! Couldn't get enough of it! It's so worth it and amazing in every way! The storyline and the special effects were so incredible! Love this franchise and can't wait for the next one! You definitely have to see it in 3D to get the best viewing! You did it again Mr. Cameron! Your a genius!