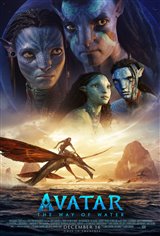 3.69/5
Based on 362 votes and 98 reviews.
Please rate between 1 to 5 stars
Showing 11-20 of 98 reviews
January 29, 2023
Pure joy -- and Cameron's best since Terminator: Dark Fate.
January 28, 2023
I had been looking forward to this one, but I was really disappointed how monotonous and dull this was, despite the special effects. Just shows how you need an actual story, not just glitzy eye candy.
January 27, 2023
January 27th, 2028 BUT: Story, a significant makeover of a cowboy and Indians movie, but with the Indians being the good guys. The kids were stereotypical US teenagers. I liked the movie and will recommenced it, BUT with qualifiers. My rating, is not more than 3.5 and not less than 3.0 ____ JSC
January 26, 2023
The overall cinematic effects were awesome, it was ok, was too long. I didn't see the first one, I didn't like the showing of whale killings could have left that out, and the many drownings or anxiety around it. Just a lot of fighting violent action.
January 24, 2023
The story
January 22, 2023
I was a little discouraged to go and sit through a 3 hour movie at first, but it was works every minute. it was beautifully written and the visuals were spectacular in 3 D. I am going to see it again but this time I a taking my whole family to watch it together . 😊?? It is the best movie I have seen in every way
January 21, 2023
Now that Sam Worthington is back on top will he complete his Clash of the Titans trilogy...?
January 21, 2023
Graphics and animation was amazing. The music was really immersive as well.
January 21, 2023
I love this movie right along with the 1st Avatar - tying in all these ancient, life-enhancing practices our ancestors engaged with the world is so beautiful - not to mention the visually stunning world Cameron creates and makes you want to step into the movie to join in the experience. What?!? 3D isn't immersive enough?! Sadly, on one hand, no; on the other, it just pays tribute to the creative genius of this instalment, with everyone's collaboration and Cameron at the helm.
January 18, 2023
Movies like this are frustrating. The use monster budgets and glitzy effects to pass along an agenda - in this case, connection to "mother Pandora/Earth/etc.". We get it. But do we need that message shrouded in dull, derivative, and straight out boring plot, flat unimaginative characters, and lousy script? Remember the 70s and 80s when subliminal messaging and the morality of doing so what frowned upon? Apparently we've forgotten - this is one overly long techno info-mercial. I can't imagine how they're going to spin the next one. Do yourself a favor, skip this Hollywood mess and skip this mess.