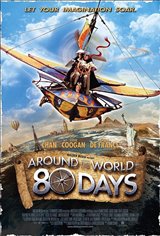 Around the World in 80 Days
3.88/5
Based on 2306 votes and 26 reviews.
Please rate between 1 to 5 stars
Showing 11-20 of 26 reviews
July 28, 2004
corny and dumb. I`ve never snored louder during a movie---wait, no,I`ve never snored during a movie before!
July 26, 2004
Amazing! Extremely amazing. I just loved how they made an older time movie so funny. I think that kids like myself will really enjoy this movie. I also have never seen such a funny movie with Jackie Chan in it. All the other actors also did a great job. So go see this movie and believe me, It will be worth watching.
July 10, 2004
this is too old fashioned i want rate this as 1 i dosent ammaze me at all its BORING .the comedy add things that it be seen
June 29, 2004
Loved it! It`s hilarious and action packed. Not a single dull moment. Wished it was longer. Expect it to be a classic.
June 27, 2004
People should give this one a chance. It should break the $100 million mark. It`s fun for the family.
June 27, 2004
I`ve been around the world. It took me a lot longer than 80 days and it was filled with way more adventure than this stagnant film. Maybe they should`ve gone "the other way" around the world instead. We`ll never know.
June 25, 2004
I walked out after 5 minutes it was so bad.
June 24, 2004
Very good family comedy.
June 22, 2004
its a very good movie ( not for adults or teenagers) ....good for children. jackie chan acts very well. i hope he gets more action movies instead of chinese ones and kids one..( like rush hour)
June 22, 2004
It`s great comedy action movie but tends to favor children and family. For sure, kids are crazy about this Disney-like movie.