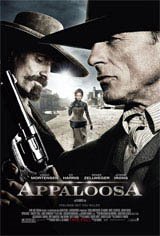 3.57/5
Based on 96 votes and 23 reviews.
Please rate between 1 to 5 stars
Showing 1-10 of 23 reviews
January 5, 2010
LOVED THE MOVIE FROM BEGINNING TO THE END. WATCHING THEM RIDE HORSES AND SEEING THE BACKGROUNDS SITES WAS AWESOME. TRYING TO FIND A MOVIE TODAY THAT TELLS A STORY AND NOT PUTTING SEX IN TO RATE THE MOVIE WAS SOMETHING I HAVE WATCHED FOR IN A LONG TIME. I HOPE ED HARRIS MAKES AND PRODUCES MORE OF THESE REAL TO LIFE ADVENTURES.
August 5, 2009
I'm not much of a western fan and chose to see the movie because my husband is. I was pleasently surprised. I found the characters very rich and entertaining. Next time, I won't be so reluctant when my husband proposes another western.
February 16, 2009
Terrible
February 10, 2009
This movie really surprised me. I hadn't heard much about it when I rented it but found it to be a great story with very deep characters. If your looking just for a western shoot em up you'll want to look elswhere but this is a good story with all four main characters flawed and interesting.
February 4, 2009
"Ed Harris' howler of a vanity piece" Strangely well-reviewed. Rest assured, it sucks. If you liked it, worry what that says about you.
January 18, 2009
it was the greatest movie
January 18, 2009
Not very good. I had high hopes and I love westerns and this just seemed like a pretty boring plot. Can't really even say I would recommend renting it.
January 15, 2009
Ed Harris did a great job from a production stand point however I was a little disappointed in the plot...was expecting something like Clint Eastwood's Unforgiven.. un
November 21, 2008
Loved this movie!!! Ed Harris is one of my favorite stars and he did a tremendous job in Appaloosa. If you enjoy a Western - go see this movie!!! It's wonderful.........
October 19, 2008
Terrible. 1 star for viggio because he's handsome. everything else was incredibly painful to watch.