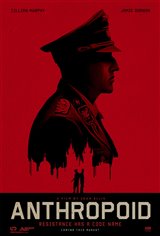 Anthropoid
| 15 Reviews
Write a Review
In Theaters: August 12, 2016
On DVD/Blu-ray: November 1, 2016
4/5
Based on 62 votes and 15 reviews.
Please rate between 1 to 5 stars
Showing 1-10 of 15 reviews
August 12, 2019
First rate action adventure at times nail-biting movie! The amazing part is, this is true! It really happened! I have read various histories of this Allied operation during the Big Show (WWII) but this movie reveals just about all aspects. Well told, well acted. It is enough to make you hate the Nazis and cheer for the Czechs! Pilsner for all!
January 14, 2017
suspenseful! excellent story.
November 2, 2016
Excellent. Too sad did't get good publicity. The world needs to know stories like that. Good cast and actors
September 7, 2016
The best comparison I can make is that 'Anthropoid is 'Inglorious Basterds' without its humour or self-awareness. Vacillating between monotonous exposition and the most grotesque and excessive depiction of torture I've seen it quite some time, Anthropoid has an interesting story that would be better written about in a novel or textbook. Instead we get a potentially interesting film changed into a celebration of waging violence regardless of the consequences to the innocent. Go see this if you enjoy celebrating war.
August 30, 2016
Very emotional movie
August 19, 2016
It's a great movie. Although it does take time to build, I'm glad I saw it. It's like any other movie I have seen and it's refreshing to see a story line that's not all flash and bangs.
August 18, 2016
What a Grate Movie.....I highly recommend this film...
August 17, 2016
I didn't know this history about WWII but I'm glad I went to see this movie. I thought the story was well done and the reactions of the actors very realistic. There were times where my heart was racing wondering what was going to happen to all those involved. The ending is sad but also a great tribute to the courage of real people in very difficult times. A movie worth seeing!
August 15, 2016
You don't have to be a Nazi sympathizer to get caught up in the story.
August 15, 2016
Slow at first but it clearly builds into something pretty good. I was impressed. Not every war movie needs to be a big Hollywood farce and twisting stories to suit the audience. This one was tension building and a very interesting part of history we here in Canada, likely never heard of before. I just didn't buy the love story between Cillian Murphy and his interest.