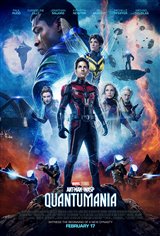 Ant-Man and The Wasp: Quantumania
3.45/5
Based on 58 votes and 18 reviews.
Please rate between 1 to 5 stars
Showing 1-10 of 18 reviews
March 21, 2023
The movie seemed to be written by a child. We stayed for one hour and since it didn't seem to be getting any better, we left. First time I ever left in the middle of a movie. I have heard that there were movies on this series before this one, but usually the movie catches us up if we didn't see the preceding ones.
March 12, 2023
Yeah. As dumb as it was, I enjoyed it. The characters were enjoyable. And I can't stop laughing every time I see holes 😆
March 4, 2023
this movie rocks not let anyone stop you from seeing this movie i have seen it 3 times already its worth every penny
February 27, 2023
LOKI!!!
February 27, 2023
Loved that movie, Loki!
February 26, 2023
I love all the Marvel movies so for me it was an easy 4 out 5. Great special effects!
February 23, 2023
I was very disappointed in this movie having seen the first two and enjoying them. It relied on CGI for almost the entire flick and what the heck is Bill Murray doing in it? I seldom can take him seriously except for comic relief. He has his talent, but not here in this pic. It was the same tired story to save the world and this business about the multiverse as gotten tedious with the unstoppable villain. So done with it! After an hour and fifteen minutes I left. Had better things to do.
February 21, 2023
G-A-R-B-A-G-E !!!
February 20, 2023
Great movie, Paul Rudd did a great job as Scott, just saw it today in the theater. Great acting, highly recommend and all five stars.
February 20, 2023
Family and I still enjoyed the movie, it had the plot, funnies, and action. I did miss Michael Pena but all the acotrs did a great job. 👍