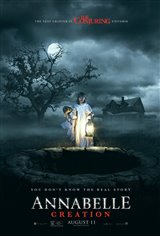 Annabelle: Creation
| 78 Reviews
Write a Review
In Theaters: May 19, 2017
On DVD/Blu-ray: October 24, 2017
3.04/5
Based on 410 votes and 78 reviews.
Please rate between 1 to 5 stars
Showing 1-10 of 78 reviews
April 7, 2018
The first ANNABELLE film was terrible; this prequel is much better. Overlong and overdone, but still effectively creepy with a tragic undercurrent to give it some weight. Talitha Bateman and Lulu Wilson are especially good.
November 5, 2017
Classic style horror actually done right
November 3, 2017
Holy doll-face Batman! Although it is hard for me to critique horror films, as I am virtually desensitized now, this is a scary/jumpy film. It is slow to start but it's good to get a lead up. The pace grows steadily more frightening and anyone who doesn't like dolls like this one, will need therapy. The conjuring series has sequels and spin-offs so one has to almost take notes to keep track, but that doesn't take away from anything.
September 21, 2017
I liked this movie. I thought it started out a bit slow, but it did pick up steam and there were quite a few scary, make you jump scenes. I am not usually afraid of dolls , but this was one creepy doll and the evil figure that was conjured up was very frightening. All in all, a good horror flick.
September 16, 2017
Awesome movie!!!
September 10, 2017
Loved all of it!!!
September 10, 2017
exciting and scary, you never know what's gonna happen next!! The effects were great and it felt real!!
September 9, 2017
It's amazing it was so realistic
September 7, 2017
it is stupid, dolls cant come to life
September 7, 2017
The movie was about a 6 out of ten, but I found it to be a somewhat clumsy attempt to link the actual Annabelle doll (a Raggedy Ann doll in the Warren's museum) to the creepy china doll from the previous movies. A few creepy moments (ala Chucky) kept the tension going , but the movie lacked any truly heart stopping Jump Scares. The film doesn't need to be seen on the big screen. Wait for an online entertainment outlet to release it.