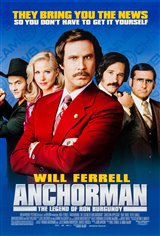 Anchorman: The Legend of Ron Burgundy
4.12/5
Based on 11534 votes and 113 reviews.
Please rate between 1 to 5 stars
Showing 1-10 of 113 reviews
January 4, 2007
One of the funniest movies i have ever seen, bought it last week and have watched it about 5 times and i`m not bored of it yet, if u haven`t seen it go see it, you won`t be disappointed
August 31, 2006
When I watched it in theaters I didn`t think it was that good but when it came on dvd I watched it a couple times and it is a great movie.
July 15, 2006
I can`t believe some people said IT SUCKED because the jokes were unrealistic and goofy - ITS A COMEDY. All comedies are like that. If you perfer realization then DO NOT go to a comedy. They are not to be taken seriously. SHESSH. P.S - This movie pwns. It`s my all-time favorite comedy! -ANGELA
January 25, 2006
This movie was horrible! I couldn`t stop laughing! It was funny and I dont think that any movie on earth compares to this! This movie should be viewed by everyone just to see what i mean *5/*5
January 12, 2006
I LOVE RON BURGUNDY HE IS MY HERO
December 1, 2005
The best comedy one liners in any movie i`ve seen
August 22, 2005
Horrible movie. It was lame and un-realistic. Will Ferrell tried really hard to make it funny, and he failed. It was just plain stupid, and a waste of 2 hours of my life.
August 21, 2005
Huuuuuuuuugely enjoyable. And I normally DESPISE Will Ferrell. But this time, he was really funny. Some of the jokes were a little crass, but they made it work. Steve Carell was a hilarious addition, and I especially love the cameos by Ben Stiller, Luke Wilson, and other spectacular comedic personalities. Altogether, ANCHORMAN was an AWESOME film to see. I encourage everyone to see it.
August 9, 2005
what a totally stupid movie!
August 8, 2005
BEST COMEDY EVER!!!!!!!!!!!!!!!!!!!!!!!!!!!!!! 5 STARS WITHOUT QUESTION!!!!!