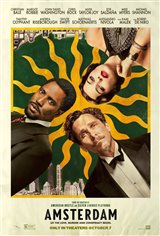 Amsterdam
| 18 Reviews
Write a Review
In Theaters: October 7, 2022
On DVD/Blu-ray: December 6, 2022
3.7/5
Based on 46 votes and 18 reviews.
Please rate between 1 to 5 stars
Showing 1-10 of 18 reviews
November 19, 2022
I so enjoyed this movie. The style is definitely reminiscent of older style movies, but I LOVED the dialogue! Great writing, interesting characters, and fantastic acting.
November 10, 2022
Dark humor, interesting story line and great characters
October 21, 2022
Enjoyed the movie very much. A very pessimistic topic explained in a witty way. Great movie!
October 20, 2022
This had an exceptional cast, especially Christian Bale, and it did not work. It was one of those quirky pictures that either work for you or not. For me not. Too bad. Margot Robbie looks fabulous I must mention, Wasted my time though.
October 18, 2022
Not even a cameo by Eddie Torres. What a waste.
October 16, 2022
I just submitted a good review but it came up one star, I meant it to be four stars.
October 16, 2022
I never listen to the critics so I decided to see this regardless of their negative reviews..glad that I did, it was excellent!
October 16, 2022
Horrible couldn't get into it at all. Just plain stupid.
October 14, 2022
2 hrs and 14 mins of my life I'll never get back
October 14, 2022
This is an amazing movie; that said, stylistically, this movie may not be everybody's cup of tea. It's a period piece (1930's); hence, it paces itself more slowly, deliberately, vaguely and viscerally (for the first half or so)--for some, it may 'appear' a bit scattered and random. At times, it feels almost 'noir-esque'. It's a bit of an off-beat mystery which starts off with a dead body of course, and people who have an interest in finding out what happened. The movie is based on actual historical events concerning politics, money, and elite level hijinks. It has appropriately timed character development for the people involved while it subtly serpentines itself toward a satisfying/illuminating finish--a finish that smacks hard of current day events and politics.