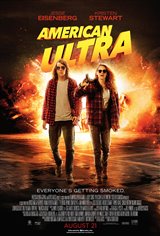 American Ultra
15 Reviews
|
Write a Review
In Theaters: August 21, 2015
2.9/5
Based on 44 votes and 15 reviews.
23.81%

23.81%

4.76%

14.29%

33.33%
Please rate between 1 to 5 stars
Showing 1-10 of 15 reviews
November 25, 2015
Disaster, very slow, stupid movie, waste of time!
September 17, 2015
Really enjoyed this movie. Good mix of action, drama. Good acting and characters. Fun story, fun movie
September 17, 2015
Do not waste your money on this awful movie! It really sucks!!!!!
August 31, 2015
Great movie!! Perfect blend of comedy and action. I will definitely watch this again.
August 29, 2015
SUCKS
August 27, 2015
I thoroughly enjoyed this movie. It was entertaining, action-packed and full of laughs. Be prepared for a sort of Quentin Tarantino style gore, but if you stay focused on the story and the entertainment value and enjoy the laughs you will leave having enjoyed having gone to see this one. I give it a thumbs up. It was really funny. Jesse Eisenburg was really good and John Leguizamo's scenes were hilarious too. Go see it.
August 24, 2015
Excellent movie! Action packed but very funny too. Kristen Stewart was amazing.
August 23, 2015
Ultra fun and ultra entertaining!
August 23, 2015
Jennifer Lawrence isn't in it, and I enjoyed it immensely. Great summer entertainment.
August 22, 2015
Worth seeing. Non-stop action, comedy and chillax moments. Eisenberg and Stewart work well together.