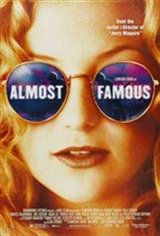 Almost Famous
11 Reviews
|
Write a Review
In Theaters: September 15, 2000
3.73/5
Based on 448 votes and 11 reviews.
61.89%

7.34%

1.05%

1.40%

28.32%
Please rate between 1 to 5 stars
Showing 1-10 of 11 reviews
March 11, 2017
Almost the worst film ever.
December 4, 2016
Another terrible movie from hack sentimentalist Cameron Crowe. Garbage.
November 24, 2008
My favourite movie of all time! I watch it at least twice a week and have done so since I discovered it four years ago :) I know every line and it never gets old !
August 24, 2006
LOVE IT !!!
January 17, 2006
I thought that it was a great rock & roll movie & it was very o funny.All the actors were great but Patrick Fugit & Kate Hudsen were my favourite!
October 10, 2004
One Of The Best Movies Ive Ever Seen. One of the best movies of all time. Proud to own it on DVD.
September 24, 2004
Billy Crudup rocks a walk through a dream of being as close to touring with a band in the 70,s as possible !!!
June 15, 2004
I can relate to this movie like no other. just wish I was a better wrighter to express my love for this film.
September 11, 2002
Beautifully written. You could almost feel the main characters beside you. A real testimonial to beautiful music and the role it plays in our lives.
April 3, 2002
SOLID WRITING FROM BEGINING TO END