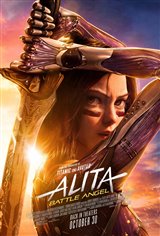 4.71/5
Based on 390 votes and 117 reviews.
Please rate between 1 to 5 stars
Showing 1-10 of 117 reviews
November 2, 2020
Alita is very good movie, would see it again but late to the party as i just saw it for the first time November 1st 2020, had to go far ways to see it but glad i did, what can u say that been talk about, it visually stunning science fiction masterpiece as was said buy other people, the only weak spots for me was the games , the flashbacks of who she was and near the end when their chatting her name, but beside that Alita: Battle Angel is worth it and would see it again on the big screen if it was near my end
October 31, 2020
Its a very good movie and good action scenes.
October 31, 2019
Amazing story and visually stunning!
August 8, 2019
I definitely love this movie, it's amazing!
July 9, 2019
One of the years best, but, BUT, only gave it 4 stars because it just, just ended....it's a serial and not one mention of that. Another Star Wars franchise-type of money-grubbing movie.
July 8, 2019
GREAT MOVIE !!!!! Kids and I Loved it … have now watched a Few times :)
July 7, 2019
I have loved movies my entire life and a wide variety of them. Alita Battle Angel is totally new to me. I have not done much with Manga but I plan to after this movie. It was absolutely wonderful to me. I would place it as my favorite of all time. I loved the characters and the universe. Its fresh and different than what we have been seeing. Alita is a great hero. She is not perfect or indestructible which makes her a more believable character. Ido is a great father figure. The fight scenes are great, the CGI is top notch and I personally love the story and fast pace. I just ordered the complete manga set and I am hoping for a sequel. Great movie. Get the blu-ray or DVD people.
June 20, 2019
Gee, excellent movie.
June 16, 2019
Please ignore the PC police and corporate movie critics; just see this movie. Alita Battle Angel is a science fiction masterpiece. It will stand the test of time.
May 28, 2019
this is awsome novie rosa does a excellent job as alita very well made action pack from begining to end,very touching love story also the best for robert rodrigez and i hope to get a sequel soon just love it