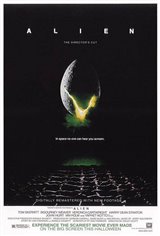 4.41/5
Based on 17 votes and 4 reviews.
76.47%

5.88%

5.88%

5.88%

5.88%
Please rate between 1 to 5 stars
Showing 1-4 of 4 reviews
February 12, 2018
Compared to Aliens, the best by far of the franchise, Alien is one dimensional yet is nevertheless outstanding. It is a horror movie but unlike the trash that constitutes most of its genre this gem stands out. The suspense is as good as it gets and the story is well done. Only James Cameron could and did exceed this amazing film but I can't in good conscience give this a four star rating just to indicate that Aliens was better.
June 27, 2013
ALIENS has nothing on ALIEN.
June 27, 2013
this is just about the greatest scifi of all time and is exceeded only by the sequel Aliens
December 31, 2011
Awesome!