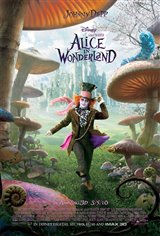 3.88/5
Based on 384 votes and 97 reviews.
Please rate between 1 to 5 stars
Showing 1-10 of 97 reviews
February 10, 2018
Are you serious? This creepy movie is meant for children? If I watched this as a kid, it would traumatise me for the rest of my life. The characters are mostly creepy as Hell and the whole atmosphere si depressing. I would rather let the kids watch Dark Knight than this!
December 5, 2012
Great,imaginative movie,packed with odd and peculiar scences.saw it on dvd would defiently watch it again!:) By Mrs Noname:)xx.
March 11, 2011
I loved this movie! The characters were charming, hair and makeup was amazing, costumes were done perfectly, and everything looked so real! Not fake at all. Im 39 if that helps anything. My daughter and my son and my hubbie love this movie too. Great for everyone. Saw it in theaters with girlfriends, and we were all swept away to wonderland. Great 3-D too. I now own it on DVD, I bought it so we could watch it as much as we want which we do. My daughter makes all of her friends watch it with her, and they all love it. Just......Wow, Great movie. Best I've seen in a long while. My daughter is 15, My son is 7, My hubbie is 60. Go see it now - you won't be disappointed. I promise. Some people wi
November 22, 2010
Beautifully art-directed, great costumes, some memorable performances (esp. Johnny Depp)...but it left me cold. I did not come to care for the characters or the situations. Then again, the animated original was similar - wildly creative, but odd. Worth seeing, but not one I'll likely see again.
July 8, 2010
It was good. I didnt expect to love it and I didnt. Actually it was exactly what I thought it would be. Johnny was amazing, as was everyone in the cast actually. The visuals were equally amazing, as they often are with Burton. I have nothing specific to complain about or to use as justification for the rating. I just didnt love it. Maybe it was the story or the somewhat pointlessness to certain aspects. But nonetheless it was enjoyable. What did this movie teach me? Mad people are the best sort of people.
July 3, 2010
i was surprised to see the ratings here - on dvd, this movie really sucks. no character relationship development. Very disappointed in this film.
June 13, 2010
Excellent movie
June 11, 2010
It was awesome! My friends like it. It's like the best movie I ever saw. I have it on blue ray and it's even better watching it the second time! By Alexie.
June 10, 2010
BORING !!!!!!!
June 8, 2010
Despite the nifty costumes and set-designs, I thought the movie was boring and lacked any real entertainment value.