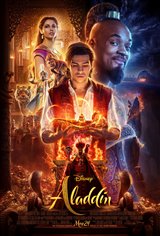 Aladdin
| 162 Reviews
Write a Review
In Theaters: May 24, 2019
On DVD/Blu-ray: September 10, 2019
3.78/5
Based on 526 votes and 162 reviews.
Please rate between 1 to 5 stars
Showing 1-10 of 162 reviews
March 11, 2021
You know what they say about Will Smith....don't watch his movies if your T-cell count is low. This is a movie for unthinking Disney lackeys, no one else.
January 18, 2021
Terrible. A moron movie for sure. But it was a big hit! (There's no shortage of morons, unfortunately)
February 3, 2020
A movie for imbeciles and illiterates. Hollywood caters to this demographic exclusively now.
September 28, 2019
iloved themovie props to the directeur
September 23, 2019
I didn't know what to expect with this movie...so here I go. I am a fan of movies that when they do a re-make...it has to be pretty close to the original. I did find that I liked it, but it had a completely different feel than the cartoon version. It almost felt like I was at a live musicial. I know that Robin Williams genie character will never be copied as he was one in a million. Will Smith did a good job, but this version is so tame I found. I was kinda disappointed that some of the songs were either gone or changed. I do think that people will enjoy this version...but for the older version it is still way better in my opinion.
September 15, 2019
It was marvelous!!!! I absolutely love ALL of the music & characters were great...even if there wasn't a talking Abu...
September 15, 2019
It was great!!! Way better than I thought it would be...& the character portrayal was magnificent... overall great movie...
September 14, 2019
Tasteless. A barrage of waste.
September 12, 2019
A hollow and soulless cash grab from an evil corporation. This one, like so many others just sits there, dead.
September 8, 2019
Will Smith was so bad in this....very disappointed.