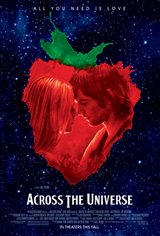 3.5/5
Based on 805 votes and 93 reviews.
Please rate between 1 to 5 stars
Showing 21-30 of 93 reviews
December 15, 2007
soooooooooooooo boring.
December 10, 2007
I absolutly loved this movie. I saw it twice in theatres and I am very excited to buy it on dvd!
November 30, 2007
Cheesey garbage with some of the worst covers of Beatles tunes you'll ever hear! Skip it and see "Help!" instead; you'll be much better off.
November 28, 2007
i thought this movie was something off the norm and enjoyed watching it. the part with mr kite was really the only part i didn't care for, and wasn't needed in the movie.
November 23, 2007
one star is generous. zero plot strung between 30 music videos. if you want beattles music, listen to a cd. awful. it is a rare movie that makes you angry, and this is one of them.
November 15, 2007
The best movie I've seen in a long time. I can truly say I have never seen a more innovative, satisfying movie. The music, all Beatle tunes from early 60's to the 70's was unbelievable. I'll see it again.
November 11, 2007
I wish I had three thumbs.. so they could all be down. Awful !
November 11, 2007
Based on reviews, I was sceptical when I first walked into the theatre and I'm incredibly glad that my worries were laid to rest pretty fast. From the opening scene with Jim Sturgess singing "Girl" in a quiet, haunting way I was riveted. The songs chosen were fantastic and there were even a few more obscure tracks thrown in, which was refreshing to see. The film IS fairly long and the plot jumps around a fair amount, but ultimately, the talented voices of the actors and the interesting nature of the subject matter kept me riveted. A great retrospective on Vietnam-era America and the clashing cultures that made it such a tumultuous time. Cameos from Eddie Izzard, Bono and Joe Cocker, too!
November 10, 2007
An excellent musical based on the songs of the Beatles. All the cast are strong singers and a few cameos including Joe Cocker, Eddie Izzard, and Bono. Great fun!
November 9, 2007
Seriouslli. Greatt go see it!