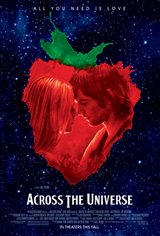 3.5/5
Based on 805 votes and 93 reviews.
Please rate between 1 to 5 stars
Showing 1-10 of 93 reviews
April 16, 2014
Face it, Max was useless. He dropped out of college cause he didn't like it then he wanted to skip going to the war? Yeah okay, that makes sense. And he got sent home all cause he got a bump on the head, when there's real soldiers who lost legs or arms? I used to like him, before realizing what useless loser he was. And his accent was crap, you're not american, your british! But I do like this film, listening to the soundtrack right now, I have two, the original one disc one and a two disc one!
July 23, 2011
If you love Beatle music, you'll love this movie. Jim Sturgess has a fantastic voice. And the movie really captures the feel and look of the 70's
March 15, 2010
Love the movie. Thought it was great. Love the actors and actress. They made it so believeable.
January 10, 2010
OUTSTANDING, INCREDIBLE! ONE OF THE BEST MOVIES THAT I HAVE EVER SEEN! CAN'T WAIT FOR ANYTHING OF HERS IN THE FUTURE.
November 14, 2009
I do not know how I missed this movie in theaters. I am currently watching it on Cable TV (Encore). I have watched it and embraced it over 20 times so far and will continue to do so as long as it is available. For any critic who did not rate this movies favorably, you have to have no emotion or sense of what you are criticizing. There is sooooo much garbage in movies now, that the critics really have nothing to rate. Julie Tremor is fantastic. Witness The Lion King on Broadway. Forget Spider Man on Broadway. Do Across The Universe. What an accomplishment that would be.
November 1, 2008
the music was amazing
July 2, 2008
Truly a winner, Vegas show LOVE could use your help. They need somebody.
June 7, 2008
Not my cup of tea.. way to artsy
April 29, 2008
I came to this movie after my 14 year old daughter and her friends saw it and loved it. I was happy that her generation was being introduced to these great songs, but I quickly directed them to the original, far superior performances. I was quite prepared to quietly "tolerate" a movie that would most likely trivialize the turbulence and complexity of the 60's, and do violence to my cherished memories. Somehow, Hollywood and most other mass media never got a handle on that era, never saw the significance amidst the silliness, the idealism beneath the naiveté, the tragedy of its failures, or its subversive success in altering our culture. The only film that even came close was a forgotten
April 12, 2008
Best and most creative movie I've seen a very looooonnnng time.