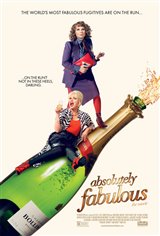 Absolutely Fabulous: The Movie
10 Reviews
|
Write a Review
In Theaters: July 22, 2016
On DVD/Blu-ray: November 1, 2016
3.4/5
Based on 30 votes and 10 reviews.
40.00%

13.33%

20.00%

0.00%

26.67%
Please rate between 1 to 5 stars
Showing 1-10 of 10 reviews
August 13, 2016
Love it"
August 7, 2016
Classic Eddie and Pats comedy and plenty of cameos to spice up the hilarity of this crazy tale of two aging friends. I laughed out loud and was delightfully horrified and amused at the same socially unconscious quips the girls have always provided. Drink a glass of bubbly while you watch and your movie is complete. Cheers!
July 29, 2016
Horrible movie unless you need some sleep. Couldn't laugh once during the film.
July 28, 2016
Hilarious!!!!!
July 27, 2016
It is irreverent, silly, over-the-top, ridiculous fun and I loved every minute of it. I will warn viewers, if you are not familiar with the TV series, the "inside jokes" won't make a lot of sense. While the film is still just light-hearted fun, having the back stories of each character does make it more enjoyable and funnier. Will I buy a copy when it's released on DVD? You bet your a.., Sweety!!
July 25, 2016
waste of time
July 25, 2016
Good old laugh at this dysfunctional duo!! Watched the show years ago...:-) Enjoyed this movie. :-)
July 23, 2016
It was fun for a few hours on a hot afternoon.
July 22, 2016
Not really funny any more.
July 11, 2016
Typical Edina and Patsy.. Great film great laughs.