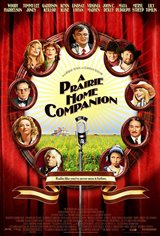 4.17/5
Based on 1126 votes and 69 reviews.
Please rate between 1 to 5 stars
Showing 1-10 of 69 reviews
August 25, 2008
Great movie, I loved it. It might be slow to some, but if you like character driven movies you will enjoy this. The acting and story are top-notch.
October 17, 2006
Interesting film that gave me a glimpse into an era not too long ago when radio was live and everyday people lived every instance in the moment. If an error was done it was corrected immediately and they moved on to the next song. That environment is gone forever but this movie has captured the essence for all time. The attempt at comedy was weak so this one gets ***`s.
October 11, 2006
This Movie Is Bad Bad Bad I Hate it the plot is ok but the fact Lindsay Lohan is in it and she sings makes it bad it`s sould be 0 stars it should have never been done!
September 16, 2006
Very good movie! We all really enjoyed it.
August 26, 2006
Great movement throughout the film.. Meryl Streep and Lily Tomlins 10 minute spiel together makes the film worthwhile to watch. Great acting and great cast. weak link was lindsay lohan...but otherwise, great "little" film.......
August 21, 2006
I loved this movie! And with such a star-studded cast, how could one not? Meryl Streep, Lily Tomlin, Woody Harrelson, Kevin Kline, Lindsay Lohan...the list goes on and on. And another thing which contributes so much to the film`s success is the fact that it`s based upon and even uses the set, musicians and crew of the long-running radio show of the same name. It`s just got an air of authenticity that makes it possible to just lose yourself until the credits roll. Bravo!
August 19, 2006
This is an excellent movie. Touching, funny, and true to life. This is a must see movie this summer.
August 18, 2006
Amazing cast! A real treat to see an ensemble of this magnitude.
August 6, 2006
Excellent. Good clean fun