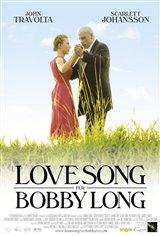 A Love Song for Bobby Long
5 Reviews
|
Write a Review
In Theaters: December 29, 2004
4.74/5
Based on 109 votes and 5 reviews.
85.71%

7.62%

3.81%

0.95%

1.90%
Please rate between 1 to 5 stars
Showing 1-5 of 5 reviews
May 2, 2013
Simply one of my Favorite films. I don't understand why this film wasn't bigger.
March 7, 2006
I THINK IT WAS MAGIC
January 1, 2006
I loved this movie and fell in love with Gabriel Macht......what eyes and dimples!!! I`never seen, nor would I have epected to see, John Travolta in a role like this....he was so very good. I highly recommend this movie.
June 16, 2005
This movie is a nice coming of age film that seems to have been a litte under-rated. I liked it but don`t expect much. That`s probably why i liked it.
June 16, 2005
I can`t give this movie five stars just because it in the wide scope of film you have to realize that there are much better films out there. However there is not denying that this film is good and so i give it 3 stars. I want to give it 4 but i realize that aside from being particularly good it`s forgetable. People should realize that there are five rankings to choose from yet everyone seems to give a movie either 5 stars or 1. This would mean that the movies are either terrible or amazing. I doubt that`s the case.