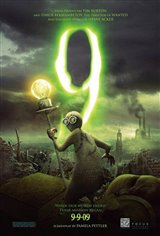 3.88/5
Based on 175 votes and 36 reviews.
Please rate between 1 to 5 stars
Showing 1-10 of 36 reviews
May 17, 2010
It was neat and creative, dark and ominous, enjoyed everything but the ending - pure cheese!!
March 15, 2010
feel like i've wasted my money! good animation, but eak plot. too little action. expected more. acting good
January 25, 2010
this movie was really good but in a way it could have been better because for one there could have been a lot of action that of course is not for young children and in my opinion this movie should have been rated between 14A for teens or 18A for adults
January 22, 2010
wow at first i thought this movie was going to be filled with a bunch off action but all i got was a bunch of puppets who you later on in the movie learn about their skills and abilitys
January 3, 2010
its not what i was hoping for..
December 28, 2009
i think this movie was great and the plot may have been a little weak but the movie itself was amazing and shane acker and tim burton you may have had a weak plot to this movie but you certainly pulled it together with all of the action, adult like scenes which is of course not for kids and you completely showed us why the world would be taken over by machines if the scientist didn`t create those puppets in the first place
December 28, 2009
i thought this movie was breath taking and the whole movie itself was amazing the acting for each character was good the machines were like the dark devil side and the puppets were like angels and 9 reminded me like he was a god sent from heaven and this is like the story of jesus but instead it was in an unknown and i think from the photo this would be the world itself right now if angels of heaven never existed and if demon of hell existed
December 28, 2009
this was a really dark and scary movie like if you had to watch this movie you would be flat out afraid and this is obviously a movie that isn`t for kids under the age of 10 and this movie was funny at the end like did you see the twins they fell right off the certain object that played music and my favourite characters were 9 and 7 but 5 and the twins for me would be a close 2nd favourite
October 31, 2009
best pg-13 movie ever
October 13, 2009
One of the good movies so far.