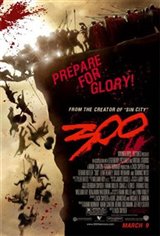 4.07/5
Based on 8653 votes and 573 reviews.
Please rate between 1 to 5 stars
Showing 31-40 of 573 reviews
June 24, 2007
this first comment on this site about this movie was along over blown speil about our troops in iraq and not about the movie at all.I rate your rating a double thumbs down go use a different web site for your political platform idiot.
June 23, 2007
I found that some of the reasoning behind why King Leonidus thought it so important to take a stand and fight, closely resembles some of todays concerns about the U.S. & Canada's roles in Afghanistan & Iraq. Perhaps it's not the wisest reasons to fight, but it is the right reason to fight. I believe there was a line in the film, and I'm paraphrasing here of course, "You can't have freedom, without spilling some blood." Some of the naysayer's & those who are against our troops involvement should see this movie, learn about honour and righteousness, then sit back and shut the hell up!
June 20, 2007
Amazing..and the music score is good too.
June 20, 2007
it was very true to the story of the battle of thermopolae but with exciting twists. very enjoyable and those guys were soo buff, my goodness i was drooling throughout the entire film. gerard butler is a fox.
June 12, 2007
Great movie, incredible action scenes a must see in the theatres.
June 4, 2007
The story of the 300 is very close to the original movie and the true life story of the Battle of Marathon and of Spartan culture. The action sequences are well done and the guys are hot. Some don't realize its a true story. The running marathons in cities today are the result of the only suviving Spartan running from the battle back to Athens announcing the Spartan defeat. This movie will be in demand for sale on release day.
May 24, 2007
A cult classic
May 21, 2007
One of the best movies to see so far this year! Great one!