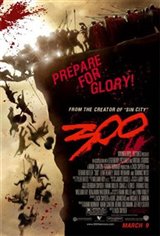 300
573 Reviews
|
Write a Review
In Theaters: March 9, 2007
4.07/5
Based on 8653 votes and 573 reviews.
69.19%

7.95%

2.19%

2.25%

18.41%
Please rate between 1 to 5 stars
Showing 11-20 of 573 reviews
November 26, 2007
awesome movie, friend who saw it 3 times before we went ruined it, but still was good, just don't go with someone who will repeat the line
September 28, 2007
This by far was he best movie ive seen in a while if u want action this has it if u want romance this has it if u want to see a good batlle this has it by far whoever says this movie is not good they r idiots cuz this is th ebest they dont no wut theyre talking about.
September 2, 2007
cool, but the awsome wears off after a while.
August 27, 2007
Absolutely amazing!
August 13, 2007
Love the over all story, picture and characters. The violence always make one pause, but a great story told, with strong characters.
August 5, 2007
going to completely change the way movies are made. visually stunning.
July 31, 2007
Visualy outstanding,a very well done film on all levels. Excellent representation of the times. Ivanhoe
July 24, 2007
Absolutely amazing movie!!!
July 22, 2007
awesome movie~~!!
July 21, 2007
visually stunning film! great acting & hot guys :)