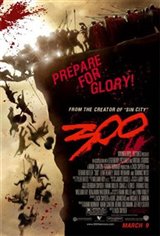 300
573 Reviews
|
Write a Review
In Theaters: March 9, 2007
4.07/5
Based on 8653 votes and 573 reviews.
69.19%

7.95%

2.19%

2.25%

18.41%
Please rate between 1 to 5 stars
Showing 1-10 of 573 reviews
July 9, 2010
we are sparta!!!
January 5, 2010
Best action movie ever!!!!!!!!!
November 28, 2009
stunning remarkable
November 7, 2009
This movie was one of the most captivating movies I have ever seen. I saw it in the movie theater and I couldnt miss a thing, even though I had to pee really bad! Gerard prepare for glory with me any day of the week!
July 23, 2009
Boy! was this the best movie ever made. I so enjoyed it, and Gerard Butler, I think was just fantastic. He really delivered in this movie, and I sure hope there's another one on the way real soon, because I'm sure I'll be the first one in line to see it. All I could say I is WoW!
June 1, 2008
This is Sparrtaaaa :-) Awesome man, just awesome, everything except the end is gr8... super fighting scenes makes this a winner
February 22, 2008
The ancient story was washed away with a lot of blood. If you like blood, this is your movie - if you're looking for a story watch something else.
February 10, 2008
Loved 300,exciting as hell! The only thing i did'nt like was the colour...
January 2, 2008
great interview, love Gerry.
December 22, 2007
Why does everybody say that this movie is so good. I guess it's good for some action and big battles and stuff, but when you really come down to it, the plot is somewhat dull, and doesn't keep you intreaged enough. 3 stars, alright, but, the hype was too much... No gladiator or braveheart though.