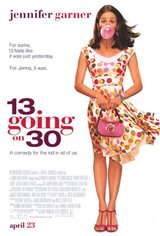 13 Going on 30
109 Reviews
|
Write a Review
In Theaters: April 23, 2004
4.34/5
Based on 15744 votes and 109 reviews.
79.74%

3.58%

1.32%

1.34%

14.02%
Please rate between 1 to 5 stars
Showing 1-10 of 109 reviews
December 19, 2014
Love this movie sooo much! Looking forward to 13 GOING ON 32 in 2015!
January 11, 2009
really cute and good
June 11, 2008
I thought this was a cute movie and very real. A great movie for a sleepover/birthday.
October 11, 2006
I found this movie really cute, the first couple of times I watched it. But after awhile I found Jennifer Garner really annoying. I needed a real long breather for awhile after seeing it.
March 29, 2006
I like Jennifer garner`s hair and clothes in the movie - but that`s about it. It`s good to watch once for fashion tips but I don`t think I`d watch it again. However, it is a good movie to watch with with your family memebers or friends - female ones...i don`t see guys liking this movie!
February 8, 2006
this movie rocks
January 8, 2006
This is a real romantic comedy. A definate date movie. Jennifer and Mark light up the screen. A must see movie that will make you laugh and cry and wish you could do it all over again.
April 25, 2005
i just loved this movie! kept watching it lotta times! jennifer and mark are perfect for their roles
March 11, 2005
this film is one of the best i`ve ever seen!!!!! mark ruffalo is so gorgeous!!! and jennifer too... you are the best guys !!!!!
March 6, 2005
This Movie was the bomb!!!! It had a great cast, plot, and actors. Garner`s best work!!!! LOVED IT!!!!!!!!!!!!!!!!