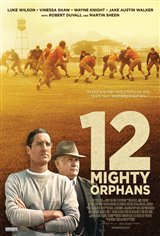 12 Mighty Orphans
6 Reviews
|
Write a Review
In Theaters: June 11, 2021
On DVD/Blu-ray: August 31, 2021
4.91/5
Based on 22 votes and 6 reviews.
90.91%

9.09%

0.00%

0.00%

0.00%
Please rate between 1 to 5 stars
Showing 1-6 of 6 reviews
November 12, 2021
Loved this movie. As an orphan myself, I felt great empathy, and of course teared up a few times. Great acting, writing, and action/drama.
September 8, 2021
Where did the other little girl come from? Why didn't the coach or doc do anything at all about the abuses? Where where the girls housed? Where was the Mason oversight committee? Methinks this was a very liberaly applied "Based upon a true story" line. Also, don't all the 5 star reviews sound the same? uh-huh....
July 8, 2021
First outing since Covid hit. This movie combines entertainment with sentiment. I laughed and also teamed up. A look back a difficult time where Hope was hard to come by.
July 5, 2021
Our first movie since Covid and it was a movie that left us feeling good.
June 27, 2021
First movie we have attended since Covid - walked out of theater grateful for the opportunity to see such a wonderful story on the big screen!
June 25, 2021
True story about the 12 orphans and how positive influence can change lives for the better. IT showed all 12 at the end and they all became successful all because someone believed in them.