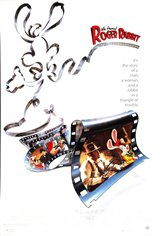 Who Framed Roger Rabbit
In Robert Zemeckis's trailblazing combination of animation and live-action, Hollywood's 1940s cartoon stars are a subjugated minority, living in the ghettolike Toontown where their movements are sharply monitored by the human power establishment. The Toons are permitted to perform in a Cotton Club-style nightspot but are forbidden to patronize the joint. One of Toontown's leading citizens, whacked-out Roger Rabbit, is framed for the murder of human nightclub owner Marvin Acme (Stubby Kaye).
Private detective Eddie Valiant (Bob Hoskins), whose prejudice against Toons stems from the time that his brother was killed by a falling cartoon piano, reluctantly agrees to clear Roger of the accusation.
| | |
| --- | --- |
| Cast: | Bob Hoskins, Christopher Lloyd, Joanna Cassidy, Charles Fleischer, Mel Blanc, Nancy Cartwright, Kathleen Turner, Stubby Kaye, Alan Tilvern, Richard LeParmentier, Betsy Brantley, Lou Hirsch, Paul Springer, Edwin Craig |
| Director: | Robert Zemeckis |
| Studio: | Touchstone Pictures |
| Producer(s): | Frank Marshall, Robert Watts |
| Writer(s): | Peter S. Seaman, Jeffrey Price |