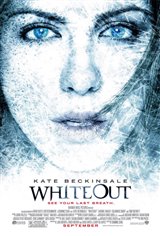 Whiteout
U.S. Marshal Carrie Stetko (Kate Beckinsale) is the only law enforcement in Antarctica, sent to investigate a body on the ice— the continent's first homicide. A shocking discovery in itself, it will plunge her into an even more bizarre mystery and the revelation of secrets long-buried under the endless ice... secrets that someone believes are still worth killing for.
As Stetko races to find the killer before he finds her, winter is already closing in. In the deadly Antarctic whiteout, she won't see him till he's a breath away.
Based on the graphic novel by Greg Rucka and Steve Lieber.