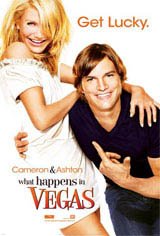 What Happens in Vegas
For charismatic party guy Jack Fuller (Ashton Kutcher) and buttoned-up commodities trader Joy McNally (Cameron Diaz), a rowdy weekend coincidentally shared in Las Vegas should have, by all rights, ended up being little more than a random blur. That is, if these two vacationing New Yorkers didn't have a signed marriage license staring them in the face to shockingly remind them of the giant misstep they took while feeling no pain, Vegas-style.
Stacking the deck, not only did Jack and Joy tie the knot after tying one on, but later scored a mind-blowing three million bucks in a slot machine bonanza. Well, Jack won it with Joy's quarter. At the machine she'd already been playing. Or was it the other way around? And whose loot is it anyway?
| | |
| --- | --- |
| Cast: | Cameron Diaz, Ashton Kutcher, Rob Corddry, Lake Bell, Treat Williams, Dennis Farina, Jason Sudeikis, Dennis Miller, Zach Galifianakis, Michelle Krusiec, Deirdre O'Connell, Krysten Ritter, Billy Eichner |
| Director: | Tom Vaughan |
| Studio: | 20th Century Fox |
| Producer(s): | Jimmy Miller, Michael Aguilar, Shawn Levy |
| Writer(s): | Dana Fox |
| Official Site: | www.whathappensinvegasmovie.com |