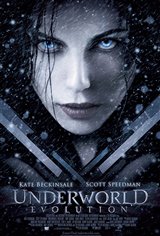 Underworld: Evolution
Hunted Vampire Selene (Kate Beckinsale) has alienated herself from the aristocratic Death Dealers after killing elder Vampire Viktor when she discovered it was he, not Lycans, responsible for the massacre of her family years before.

Selene's only hope is to seek the forgiveness of Vampire king Marcus (Tony Curran) who has become a hybrid of Vampire and Werewolf with plans for world domination. His only serious threat is Michael (Scott Speedman), the Werewolf, who now too is a hybrid and the keeper of an ancient pendant Marcus needs to help free his imprisoned twin brother, William. The other piece of the puzzle is Selene, who alone holds the knowledge of William's whereabouts.

Soon, Michael takes his rightful place alongside Selene, coming to terms with his own power and his feelings for her. Side by side, Selene and Michael battle Marcus as each confrontation unearths new secrets leading to an apocalyptic battle destined to change the history of the warring factions forever.