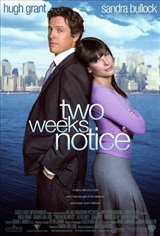 Two Weeks Notice
Millionaire George Wade (Grant) doesn't make a move without Lucy Kelson (Bullock), his multi-tasking Chief Counsel at the Wade Corporation. A brilliant attorney with a strategic mind, she also has an ulcer and doesn't get much sleep.

It's not the job that's getting to her. It's George. Smart, charming and undeniably self-absorbed, he treats her more like a nanny than a Harvard-trained lawyer – and can barely choose a tie without her help. Now, after five years of calling the shots, on everything from his clothes to his divorce settlements, Lucy Kelson is giving her two weeks notice.

Although George makes it difficult for Lucy to leave the Wade Corporation, he finally agrees to let her go – but only if she finds her own replacement. After a challenging search, she hires an ambitious young lawyer (Witt) with an obvious eye on her wealthy new boss. Finally free of George and his 24-hour requests, Lucy is ready to change course and join her devoted boyfriend (Feuerstein) on an adventure at sea. Or is she?

Confronted with the fact that Lucy is literally sailing out of his life, George faces a decision of his own: is it ever too late to say "I love you"?