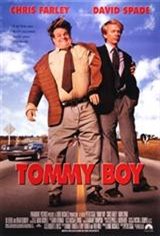 Tommy Boy
| 1 Reviews
Write a Review
In Theaters: March 31, 1995
On DVD/Blu-ray: May 26, 2020
PG-13 | Comedy | 1h 37m
Tommy Boy
Saturday Night Live star Chris Farley had his first starring role in this frankly lowbrow comedy, which teamed him with fellow SNL cast member David Spade).

Big Tom Callahan (Brian Dennehy) is the street-smart owner of a company that makes auto parts, and one day he'd like his son Tommy Callahan III (Chris Farley) to take over the business. Trouble is, Tommy Boy is an overweight, dim-witted slob who took seven years to get a business degree and has no idea how to run a business. His father's sudden death unexpectedly puts Tommy Boy in charge, with his dad's weaselly assistant Richard (David Spade) trying to guide him.
However, what no one knows is Big Tom's wife, the young and beautiful Beverly (Bo Derek), married him only for his money while holding onto her lover, Paul (Rob Lowe), whose presence she explains by telling people he's her son. Beverly and Paul are waiting for Tommy Boy to run the company into the ground so they can take over, sell it off and earn a quick payoff. However, what Tommy Boy lacks in smarts (and hygiene), he makes up for in determination, and he hits the road with Richard for a long sales trip in a last ditch effort to rescue his father's legacy.

Tommy Boy was a major hit that turned Chris Farley into a screen star; sadly, he was dead within two years of the release of his breakthrough film.