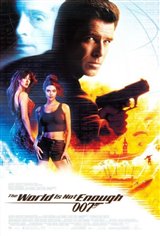 The World Is Not Enough
After British oil tycoon Sir Robert King, is killed in a bombing at the MI6 headquarters, his daughter, Elektra (Sophie Marceau), inherits his fortune, which includes six trillion dollars worth of oil deposits in the Caspian Sea, as well as James Bond as a guard.
<
Her new wealth attracts interest from around the world, including her father's killer. His name is Renard (Robert Carlyle). He's had an encounter with Her Majesty's Secret Service before: when 009 put a bullet in his head.
Unfortunately for James, what doesn't kill you makes you stronger, and because the bullet in his brain didn't kill him, it left him impervious to pain. Now he has but one reason left to live—revenge.
The cast also includes the lovely Dr. Christmas Jones (Denise Richards), a shapely scientist drawn into the fray, and Judi Dench returns as Bond's rigid boss, M.