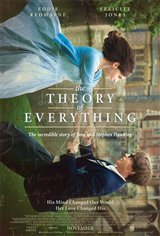 The Theory of Everything
As a young man at school, it was already clear that Stephen Hawking had an exceptional mind. Having won a scholarship to the University of Oxford, his future looked extremely bright. Going on to Cambridge, he meets and falls in love with Jane Wilde, and the two become engaged.
Stephen begins to have health problems and discovers he has a debilitating motor neuron disease known as ALS. Given two years to live, he's understandably devastated. As Stephen's health problems become apparent to all, Jane insists they get married anyway. She helps him in every way possible, becoming his fulltime caregiver.
Stephen, who authors the bestselling book A Brief History of Time, becomes a renowned astrophysicist. Overwhelmed by her role of mother to two small children as well as being Stephen's only caregiver, when her husband falls ill and the doctor recommends that he be taken off life support, Jane doesn't hesitate when making her decision.
Based on Jane Hawking's memoir, Travelling to Infinity: My Life with Stephen.