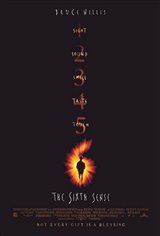 The Sixth Sense
Dr. Malcolm Crowe (Willis) is a successful child psychologist in Philadelphia. The night before he is to receive an award for his medical achievements, a former patient breaks into his house and kills himself.
Drenched in guilt, the doctor comes to the aid of a tormented lad (Osment) who can see ghosts. While making his analysis of the troubled boy, he discovers something that is not only fascinating, but could also be very dangerous.
The child unwillingly possesses supernatural powers. Toni Collette is the long-suffering single mom raising the haunted boy. Olivia Williams is the psychologist's long-suffering mate. Everybody suffers here, and some might find the resolution is very disturbing.