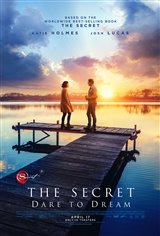 The Secret: Dare to Dream
The Secret: Dare to Dream
Miranda Wells (Katie Holmes), a hard-working young widow struggling to raise three children on her own in Louisiana, is dating her wealthy boss, Tucker (Jerry O'Connell), when a mysterious man enters her life.
Bray Johnson (Josh Lucas) comes to Miranda's home with an envelope in his hands, but her son Greg (Aidan Pierce Brennan) tells him she isn't home. Later that day, Miranda rear ends Bray's car. Her bumper falls off in the accident, and Bray offers to come over and fix it. When Greg sees him arriving at their house again, he can't believe the coincidence, but Bray can. He believes that people's thoughts attract things with a force that you can't see, and that we get what we expect.
As a storm is about to hit Louisiana, Bray's presence re-ignites the family's spirit, but he carries a secret that could change everything.
Based on the 2006 best-selling self-help book The Secret, a global phenomenon that empowered millions to lead happier and more fulfilled lives.
| | |
| --- | --- |
| Cast: | Katie Holmes, Josh Lucas, Celia Weston, Jerry O'Connell |
| Director: | Andy Tennant |
| Studio: | Roadside Attractions |
| Producer(s): | Robert Katz, Robert W. Cort, Paul Hanson, Matthew George, Rhonda Byrne, Joe Gelchion |
| Writer(s): | Bekah Brunstetter, Andy Tennant, Rick Parks |
| Official Site: | thesecretdaretodream.com |