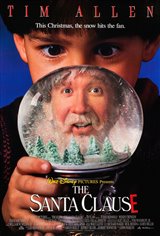 The Santa Clause
Divorced dad Scott Calvin (Tim Allen) is dismayed when he finds out his ex-wife Laura (Wendy Crewson) and her psychiatrist husband Neal (Judge Reinhold) have informed his son Charlie (Eric Lloyd) that there is no Santa Claus.
When Charlie visits his dad on Christmas Eve, a noise on the roof brings them outside, where Scott startles the intruder, who tumbles from the roof. Charlie can't believe his father has killed Santa Claus. They discover a card leaving instructions on what to do if anything happens to the jolly old elf. Scott has to put on the suit and along with Charlie, get into the sleigh to distribute the rest of the presents.
Because of a legal technicality known as the Santa clause, Scott has to become the next Santa Claus. Over the next year, Scott gains weight, grows a white beard and meets the elf Bernard (David Krumholtz) — who is the one who really runs the North Pole — while Charlie regains his Christmas spirit. However, Neal becomes concerned about Scott's sudden change in appearance and insistence that he's Santa, and he forces him to undergo a psychiatric evaluation.