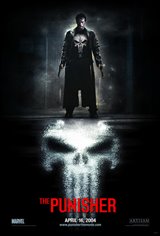 The Punisher
FBI special agent Frank Castle (Thomas Jane) is finally moving out of the field and into a normal life with his wife, Maria (Samantha Mathis) and their young son. On his final assignment, the operation spins out of control and a young man, Bobby Saint, is inadvertently killed.

Inflamed by the death of their son, Tampa businessman Howard Saint (John Travolta) and his wife, Livia, whose wealth is linked to violent beginnings and underworld ties, are willing to risk their newfound legitimacy on a mission of vengeance. Castle's worst nightmare is about to come true, as Howard Saint and his lieutenants unleash hell at the Castle family reunion.

Castle's wife and son are killed, and experience tells him the law cannot adequately penalize the people who murdered his family. In planning his revenge, he realizes his life's work. As The Punisher, he will provide justice for ordinary people and exact retribution from society's villains.