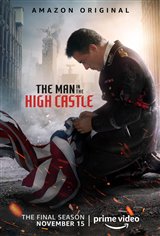 The Man in the High Castle (Prime Video)
The Man in the High Castle (Prime Video)
What would have happened to the United States of America if Nazi Germany had won WWII? That's exactly what has happened in The Man in the High Castle.

It's 1962, and America has been divided into two. The Nazis have taken over the Eastern states, now known as the Greater Nazi Reich, while Japan governs the West, known as the Pacific States. In the middle is an area called the Neutral Zone. Hitler is still alive in Germany, but suffering from Parkinson's disease. The Japanese fear that when the Führer dies or steps down, the Nazis will start a war in order to take over their territory.

Juliana Crane (Alexa Davalos) lives a relatively peaceful existence with her boyfriend, Frank Frink (Rupert Evans). Frank's grandfather was a Jew, but Frank keeps that quiet, for fear that the Nazis will exterminate him.

When Juliana's half-sister Trudy gives Juliana a film just before she's shot dead at the hands of the Kenpeitai, Juliana watches it. It shows an alternate reality in which the Nazis are defeated and America is free. Juliana decides to deliver the film to Canon City, Colorado, in the Neutral Zone, in Trudy's place. However, Frank is against it, fearing it will put them both in danger.

Without telling Frank, Juliana leaves on her mission. Meanwhile, Joe Blake (Luke Kleintank), a young double agent working for the Nazis, is asked to deliver a film to Canon City as well. He's supposed to meet a resistance contact there — Trudy. Without realizing Juliana has been sent in her place, he befriends her.

Based on Philip K. Dick's award-winning 1962 alternate history novel.



| | |
| --- | --- |
| Cast: | Alexa Davalos, Luke Kleintank, Rupert Evans, Rufus Sewell, DJ Qualls, Chelah Horsdal, Cary-Hiroyuki Tagawa, Quinn Lord, Daniel Roebuck, Callum Keith Rennie, Hiro Kanagawa |
| Director: | Karyn Kusama, John Fawcett, Daniel Percival |
| Studio: | Amazon Prime Video |
| Producer(s): | Jean Higgins, Dre Ryan |
| Writer(s): | Frank Spotnitz, Philip K. Dick, Joe Kawasaki, Rob Williams, Wesley Strick |
| Official Site: | primevideo.com/detail/0t1r1mxa75zcr0c3247chpis3x |