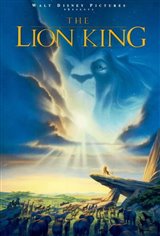 The Lion King (1994)
An unforgettable story, breathtaking animation, beloved characters and award-winning music sets the stage for THE LION KING, a Disney classic that follows the adventures of Simba, the feisty lion cub who "just can't wait to be king."
However, his envious Uncle Scar has plans for his own ascent to the throne, and he forces Simba's exile from the kingdom. Alone and adrift, Simba soon joins the escapades of a hilarious meerkat named Timon and his warmhearted warthog pal, Pumbaa. Adopting their carefree lifestyle of "Hakuna Matata," Simba ignores his real responsibilities until he realizes his destiny and returns to the Pride Lands to claim his place in the "Circle of Life."
| | |
| --- | --- |
| Cast: | Matthew Broderick, Niketa Calame, Jim Cummings, James Earl Jones, Nathan Lane, Ernie Sabella, Jeremy Irons, Robert Guillaume, Rowan Atkinson, Moira Kelly, Whoopi Goldberg, Zoe Leader, Cheech Marin, Madge Sinclair, Jonathan Taylor Thomas, Jonathan Thomas, Joseph Williams, Laura Williams, Judith Durand, David McCharen, Philip Proctor, David Randolph |
| Director: | Rob Minkoff, Roger Allers |
| Studio: | Walt Disney Pictures |
| Producer(s): | Don Hahn |
| Writer(s): | Irene Mecchi, Jonathan Roberts, Linda Woolverton |
| Official Site: | disney.com/lionking |