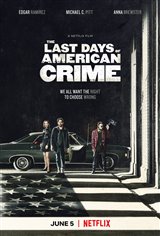 The Last Days of American Crime (Netflix)
The Last Days of American Crime (Netflix)
In the not-too-distant future, the United States government plans to broadcast a mind-altering signal to end crime and terrorism throughout the country.
But before that can happen, career criminal Graham Bricke (Edgar Ramirez) teams up with famous gangster Kevin Cash (Michael Pitt) and hacker Shelby Dupree (Anna Brewster) to commit the crime of the century — and the last crime in U.S. history.
The film is based on the 2009 graphic novel created by Rick Remender and Greg Tocchini.