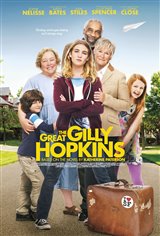 The Great Gilly Hopkins
Gilly Hopkins (Sophie Nélisse) is a smart-mouthed 12-year-old who has spent her life being moved from foster home to foster home. When she finds out she's being sent to yet another new home, she decides to waste no time making trouble.
Her new foster mother, Maime Trotter (Kathy Bates), turns out to be warm and kind. She already has a foster son, W.E., who's scared of everyone and everything. Gilly teases him, but Maime soon puts a stop to that. At school, Gilly plays mind games with her teacher (Octavia Spencer), first turning in excellent work, then not completing her work at all — anything to get a rise out of her. When Gilly gets a postcard from her birth mother in California, the girl decides she has to find her.
Based on the award-winning children's novel by Katherine Paterson (also the author of Bridge to Terabithia).