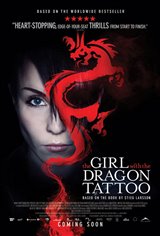 The Girl with the Dragon Tattoo (2010)
The Girl with the Dragon Tattoo (2010)
Facing prison time for slander, discredited journalist Mikael Blomkvist is hired by a reclusive industrialist for one last job; to solve a long unresolved family disappearance. Aided by the mysterious and troubled computer hacker, Lisbeth Salander, the two uncover a darker world of brutality, deception and ritualistic murder. Alone and not knowing who to trust, they must fight for their own survival and reveal the truth.
In Swedish with English subtitles.
Based on the international bestseller by Stieg Larsson, The Girl with the Dragon Tattoo is the first in the gripping Millennium trilogy.