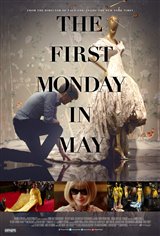 The First Monday in May
Every spring, the Metropolitan Museum of Art in New York City hosts the Met Gala to raise funds for The Costume Institute. Oscar winners, super models, pop stars, fashion icons and politicians all show up for the event.
Each year, a new fashion exhibition is unveiled on the first Monday in May. It not only has to be beautiful, it has to be visionary and a work of art. The 2015 exhibition was "China: Through the Looking Glass," which celebrated the impact of Chinese design on Western fashion, featuring clothing from designers such as Karl Lagerfeld and John Paul Gaultier.
The First Monday in May is an inside look at the creation of this revolutionary art exhibition, and the social politics that go behind the scenes of making it the most important social fashion event of the year.