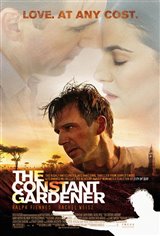 The Constant Gardener
In a remote area of Northern Kenya, the region's most dedicated activist, the brilliant and passionate Tessa Quayle (Rachel Weisz) has been found brutally murdered. Tessa's travelling companion, a local doctor, appears to have fled the scene, and the evidence points to a crime of passion. Sandy Woodrow (Danny Huston), Sir Bernard Pellegrin (Bill Nighy), and the other members of the British High Commission in Nairobi assume that Tessa's widower, their mild-mannered and unambitious colleague Justin Quayle (Ralph Fiennes), will leave the matter to their discretion. They could not be more wrong....

Haunted by remorse and jarred by rumors of his wife's infidelities, Justin surprises himself by plunging headlong into a dangerous odyssey. Determined to clear his wife's name and "finish what she started," Justin takes a crash course to learn about the pharmaceutical industry whose crimes Tessa was on the verge of uncovering, and journeys across two continents in search of the truth.

Based on the novel by John Le Carré.