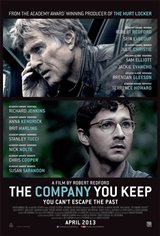 The Company You Keep
Jim Grant (Robert Redford) is a civil rights lawyer and single father who leads a normal life. Or so he would have you believe. Grant is a former militant and 1970s fugitive wanted for bank robbery and murder. He has been hiding from the FBI for over 30 years, posing as an attorney.
When Grant's identity is discovered and exposed by an aggressive young reporter (Shia LaBeouf), Grant begins a cross-country journey, determined to find the one person who can clear his name before the FBI can catch him.
| | |
| --- | --- |
| Cast: | Robert Redford, Shia LaBeouf, Julie Christie, Sam Elliott, Jackie Evancho, Brendan Gleeson, Terrence Howard, Richard Jenkins, Anna Kendrick, Brit Marling, Stanley Tucci, Nick Nolte, Chris Cooper, Susan Sarandon |
| Director: | Robert Redford |
| Studio: | Voltage Pictures |
| Producer(s): | Robert Redford |
| Writer(s): | Lem Dobbs |
| Official Site: | thecompanyyoukeepfilm.com |